Double the Share of Renewables in the 'Decade of Action' to Achieve Energy Transition Objectives
(News Release)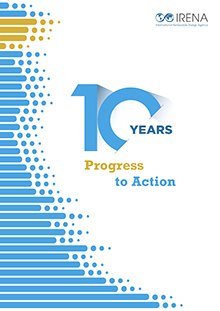 The share of renewables in global power should more than double by 2030 to advance the global energy transformation, achieve sustainable development goals and a pathway to climate safety, according to the
International Renewable Energy Agency (IRENA)
. Renewable electricity should supply 57 per cent of global power by the end of the decade, up from 26 per cent today.
A new booklet
10 Years: Progress to Action
, published for the 10th annual Assembly of IRENA, charts recent global advances and outlines the measures still needed to scale up renewables. The Agency's data shows that annual renewable energy investment needs to double from around USD 330 billion today, to close to USD 750 billion to deploy renewable energy at the speed required. Much of the needed investment can be met by redirecting planned fossil fuel investment. Close to USD 10 trillion of non-renewables related energy investments are planned to 2030, risking stranded assets and increasing the likelihood of exceeding the world's 1.5 degree carbon budget this decade.