Associate Oil and Gas Engineer - California Department of Conservation
Location: Sacramento County. Final Filing Date: 4/25/2018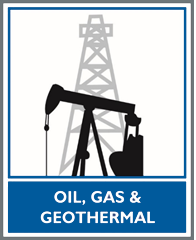 Under the direction of the Senior Oil and Gas Engineer (Supervisor), the Associate Oil and Gas Engineer (AOGE) will independently perform difficult engineering work related to geothermal and natural gas production and underground injection in the
Division of Oil, Gas and Geothermal Resources (DOGGR)
Northern District.
The incumbent will perform assignments that require a high degree of knowledge and skill in well design and completion, in addition to reservoir engineering, team leadership, communication, and data management. The incumbent will perform technical evaluation of proposed well operations including underground injection (UIC) projects and prepares permits documenting technical requirements and regulatory compliance for such operations.
The incumbent will conduct complex studies of well field operations and reservoirs; make complex calculations, prepare and interpret complex technical data, and statistics; write reports on investigations; monitor and investigate the legality and advisability of proposed operations, prepare technical and legal directives and advise operators of preventative or corrective actions.
This position requires extensive reviews of well files, projects, notices, field operations and other related duties and provides technical guidance to field engineering staff.
More Information..........