Area Supervising Engineer
(California Department of Conservation - DOGGR)
Salary: $10,345.00 - $12,953.00 per month. Final Filing Date: 7/3/2018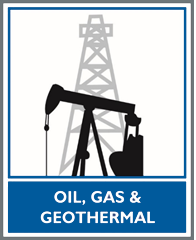 Under the general direction of the District Deputy (Supervising Oil and Gas Engineer), the Senior Oil and Gas Engineer (Supervisor) will function as an Area Supervising Engineer for the
Division of Oil, Gas and Geothermal Resources (DOGGR)
, Northern District Office.
The incumbent will directly supervise technical staff responsible for issuing permits for drilling, completing, work overs, plugging, abandoning, and testing of natural gas
and geothermal wells
; evaluation of new and existing natural gas and
geothermal projects
; inspection and safe operation of gas and
geothermal production
and injection facilities; pipeline integrity testing; and the Division's environmental protection programs within the District.
You will find additional information about the job in the
Duty Statement
.