Turning carbon dioxide into rock - forever
(BBC News)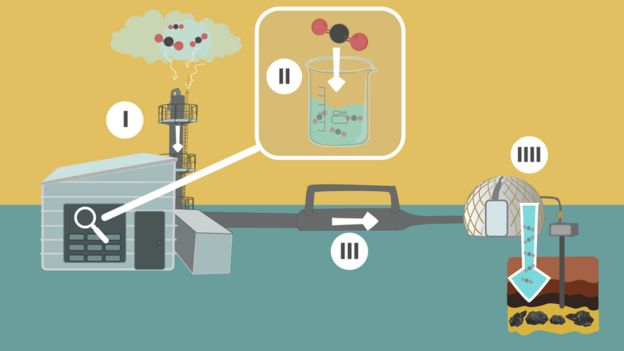 Waste CO2 from the steam (I) goes to the gas separation station (II) is diluted in water (III) piped to the injection site (IIII) and pumped underground where it mineralises into rock
Hellisheidi power station is not just an accomplished provider of green energy. It is also the site for a scientific breakthrough; an experiment to capture carbon dioxide (CO2) and turn it into stone - forever.
Thus keeping this greenhouse gas out of the atmosphere and putting a dent in global warming.
"Mankind has been burning fossil fuels since the industrial revolution and we have already reached the tipping point for CO2 levels", says CarbFix project leader Edda Sif Aradottir. "This is one of the solutions that can be applied to reverse that".
Called
CarbFix
, the project is pioneered by an international consortium led by Reykjavík Energy, the French National Centre for Scientific Research, the University of Iceland and Columbia University.