Commissioner Hochschild impressed with Senator's Hueso tour of Salton Sea
(Imperial Valley Press)
"I wasn't aware that the geothermal here on the Salton Sea is actually the best in the whole state," Hochschild said. "I knew it was good, but didn't know it was that good and there is still a lot more potential to exploit that resource and produce energy from so it was good to get to see that up close."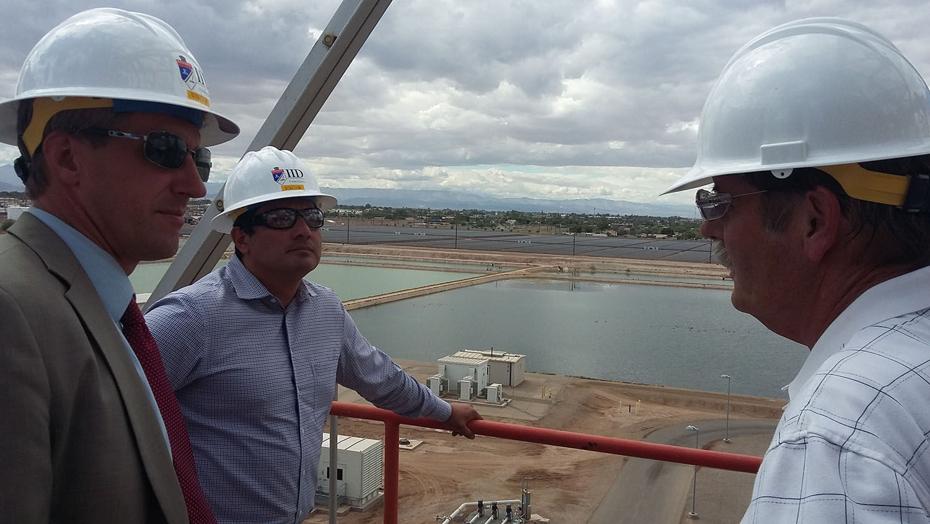 David Hochschild (left) and Sen. Ben Hueso (middle) listen talk to IID assistant manager of the Energy Department Michael Taylor at the EnergySource John Featherstone Geothermal Power Plant. EDWIN DELGAO PHOTO
As time flies by and there is little or no action by the state of California to find a solution for the Salton Sea,
State Sen. Ben Hueso
invited Commissioner of the
California Energy Commission
David Hochschild
to a tour around the Salton Sea area to learn about the challenges and opportunities for renewable energy in Imperial Valley.
Hueso, who is the chair of the
Committee on Energy, Utilities and Communications
for the state's Senate, was also joined by the
Imperial County Board of Supervisors
and several officials from the
Imperial Irrigation District
including Board of Directors President Stephen Benson during Monday's meeting and tour.
"I was just looking to learn more about the Salton Sea and the geothermal resources area and we accomplished that, it was a very fruitful tour today." Hochschild said.
The second half of the tour included a visit to the
EnergySource
geothermal plant, where Director of Project Development Derek Benson gave everyone a virtual introduction of how his plant operates and had the opportunity to explain what the geothermal industry can bring and what some of the challenges ahead of them are.
"The Energy Commission manages grants for new projects, new investments, they oversee the approval of geothermal facilities as well," Hueso said. "It was important for him (Hochschild) to see the geothermal potential we have in the Valley is going to be part of our recipe to restore the Salton Sea, also to create jobs and to create California's energy future."
The biggest emphasis made was how the Salton Sea area is a great area for geothermal and how much potential for growth there is.
"I wasn't aware that the geothermal here on the Salton Sea is actually the best in the whole state," Hochschild said. "I knew it was good, but didn't know it was that good and there is still a lot more potential to exploit that resource and produce energy from so it was good to get to see that up close."
Read More........