Webinar - Geothermal in the Southern Cone: The New Frontier?
(New Energy Events)
Thursday, June 13, 2019 7:00 AM - 7:45 AM PDT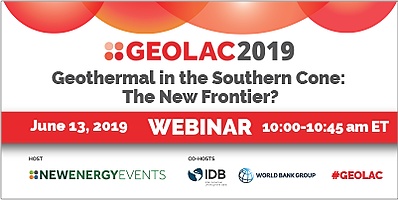 In the build-up to the
2019 Geothermal Congress for Latin America and the Caribbean (GEOLAC)
, we invite you to join us for a complimentary webinar focused on the future for geothermal in Chile and Argentina.
Despite the existence of a substantial resource in both countries, only one project – Cerro Pabellon in Chile – has made it to market. Both governments, however, are placing a new emphasis on geothermal in their resource planning.
How is that emphasis reflected in policy?
What are the terms of engagement for private sector investors?
How active are the DFIs and what programs are available to support the public and private sector in both markets?
Is there a future for direct use geothermal?
Join us and our GEOLAC co-hosts at the World Bank, the IDB, and the Governments of Chile and Argentina as we set the stage for GEOLAC 2019.
More Information.........
The Geothermal Resources Council (GRC) is a Lead Content Partner of the event.