Vacation Island Finds a Way to Pay for Geothermal Electricity (Mutley Fool)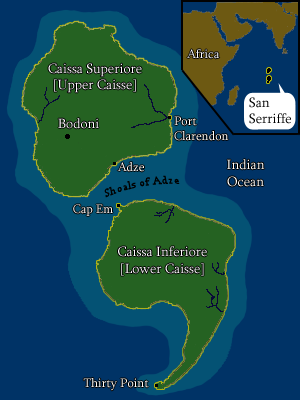 Last year,
Global Geothermal News reported
on new geothermal resource on a remote island in the Indian Ocean. An recent update on the project has indicated that a binary geothermal plant could be developed, using a novel working fluid.
The discovery was made in the republic of
San Serriffe
, located on the seismically active mid-indian ocean ridge near the Seychelle Islands. The potential capacity of the renewable resource has been estimated as upwards of 500 MWe.
San Serriffe comprises two islands, Upper Caisse and Lower Caisse, shaped curiously like a semi-colon.
Since it's first exposure
to the outside world on April 1, 1977, the island has
struggled for acceptance
but now with the discovery of geothermal energy it has plans to become a powerhouse for the southern Indian Ocean.
The islands plan to use the geothermal energy for domestic and industrial use but also to export electricity by undersea cable to the Seychelles to help run the huge tourist resorts on the paradise island.
The Seychelles will pay for the electricity by providing supplies of sun-screen, excess supplies of which are left at vacation resorts by holiday-makers. Scientists have discovered that the protective cream can be used as an effective binary fluid to transfer the heat to a generating unit.
More information......