Lahendong, Ulubelu geothermal power plant absorb thousands of workers: President Jokowi
(Antara)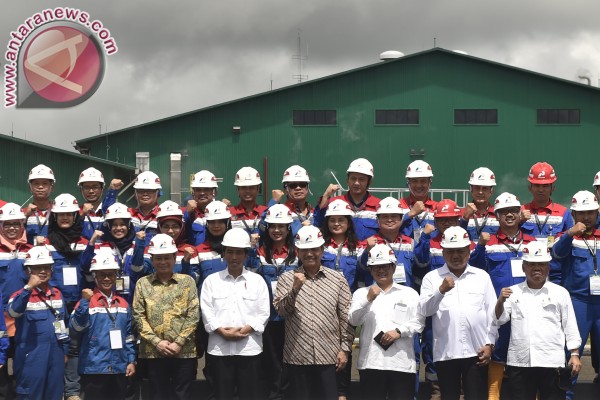 President Joko Widodo/Jokowi (front row, fourth from left) pictured with a number of ministers, officials and employees of geothermal electricity Units 5 & 6 PT Pertamina Geothermal Energy Lahendong in Tompaso, Minahasa, North Sulawesi, which was unveiled Tuesday (Dec. 27, 2016). (ANTARA/Puspa Perwitasari/P003)
President Joko Widodo (Jokowi) has said that Indonesia has abundant potential in geothermal energy, and so far, only five percent, or 29 thousand MW, of this potential has been used.

"Therefore, the remaining potential, of 95 percent, needs to be exploited," Jokowi stated in Tampaso, here, Tuesday, while inaugurating the fifth and sixth units of the Lehendong geothermal power plant and the third unit of the Ulubelu geothermal plant.
President Joko Widodo (Jokowi) inaugurated the geothermal power plants in Minahasa, North Sulawesi on Tuesday.
Lahendongs Units 5 and 6 can generate 20 MW each, while, Ulubelus Unit 3 has a total capacity of 55 MW, with an investment of $250 million.
Read More........