California wildfire forces evacuation of 300 homes
(Santa Cruz Sentinel)
Firefighters made good progress overnight increasing the containment line and are working on pockets of unburned fuel within the fire perimeter. Firefighters will continue to work on constructing and improving the fire line. Temperatures are expected to remain high throughout the day. The fire has burned 1500 acres and is 55% contained.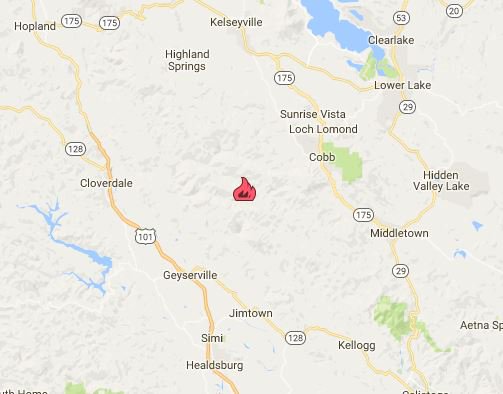 Fire crews continued to battle a blaze burning close to a massive geothermal power producing facility in Sonoma County, officials said Monday.
A blaze that erupted amid hot, dry conditions and gusty winds in Sonoma County north of San Francisco forced the temporary evacuation of one of its 14 geothermal plants.
Brett Kerr, a spokesman for Calpine, which operates The Geysers geothermal complex, said evacuated employees were allowed to return to the plant, which started operating later Monday.
All employees were safe and accounted for and the flow of electricity from the facility was not disrupted, he said.
"Our remaining plants at the Geysers continue to operate normally and our team is constantly assessing the situation and will take all steps necessary to ensure the safety of employees and the preservation of our facilities," Kerr said in an email.
Read More.......