Minister Liburd leads OECS and CARICOM delegation to Bouillante Geothermal Plant in Guadeloupe
(SKNVibes.com)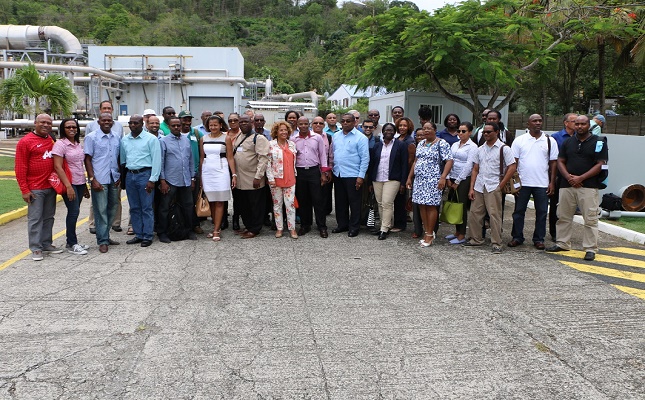 St. Kitts and Nevis' Minister of Public Infrastructure with responsibility for energy, Honourable Ian Patches Liburd, led
Organization of Eastern Caribbean States (OECS)
and the
Caribbean Community (CARICOM)
delegates, on the last day of a three day regional geothermal forum held at the St. Kitts Marriott Resort from May 10-12, to the only active geothermal plant in the Caribbean in Bouillante, Guadeloupe. The 10 MW facility was
bought by Ormat Technologies in March
. Ormat is confident that with its technology and expertise it can optimize the use of the resource at the existing facilities and recover its current production to its design capacity of 14.75 MW by mid-2017.
The forum was held under the theme "Opportunities and Synergies for Collaboration."
Minister Liburd said that the regional geothermal forum would not have been complete without a trip to the Bouillante Geothermal Plant in the French Caribbean Island that serves as the only model of how geothermal energy can be of benefit to small island developing states (SIDS) that are heavily burdened with high electricity costs from the use of fossil fuel—and also the dangers that high carbon emissions from this type of fuel poses to the environment.