ASTAE/ESMAP 2015 Annual Report
(ESMAP)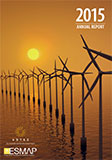 The World Bank administered
Energy Sector Management Assistance Program (ESMAP)
Annual Report 2015
takes a comprehensive look at ESMAP's programs, activities, and results for Fiscal Year 2015. The first chapter highlights our work for the year, followed by chapters each giving an overview of FY2015 activities and results in ESMAP's main program areas: clean energy, energy access, energy efficient cities, and energy assessments and strategies.
The report also includes sections on special initiatives such as the SIDS DOCK Support Program for small island developing states; the Africa Renewable Energy and Access Program (AFREA); Gender and Social Inclusion in the Energy Sector; and Results-Based Approaches to energy sector development.
Of particular interest is the section on Removing Bottlenecks To Geothermal Energy Development on pages 16 and 17.
Read More.........
ASTAE/ESMAP 2015 Annual Report.........
(PDF)