EERE Strategic Plan for Renewable Energy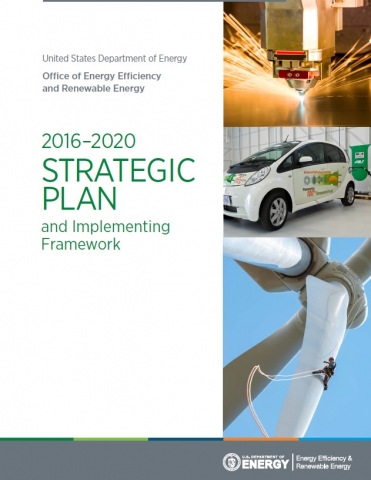 The
Office of Energy Efficiency and Renewable Energy (EERE)
Strategic Plan for 2016-2020 provides the necessary framework for responding to the global challenge of climate change and ensuring that the U.S. is a global leader in the clean energy economy.
Over the next five years, EERE will make the strategic investments in the innovation and creativity of our nation's scientists, engineers, entrepreneurs, and industry leaders to fulfill this vision while working to enhance U.S. energy productivity and competitiveness. The result will be energy solutions that make America more prosperous and secure and our energy systems cleaner and more affordable.
One of the seven strategic goals is to
Increase the Generation of Electric Power from Renewable Resources
.
The plan includes 39 indicators that reflect interim milestones or end goals of strategies. Many of these indicators directly align with larger federal goals and provide what we anticipate EERE's contribution to be. The indicators that refer to geothermal energy have the following goals:
By 2020, reduce the modeled cost of geothermal power from currently undiscovered hydrothermal resources to $0.10/kWh.
By 2030, reduce the modeled LCOE from newly developed geothermal systems, including EGS, to $0.06/kWh.