Geothermal Wins Lukas Classic at Churchill
(BloodHorse.com)
Horse is offspring of "Unbridled Energy"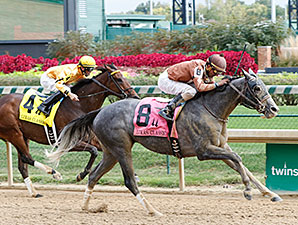 Geothermal and jockey Robby Albarado swept to the front turning for home and gamely refused to be passed en route to a 1 1/2-length victory over favored Departing in the inaugural Lukas Classic Stakes at Churchill Downs.
The Lukas, formerly the Homecoming and renamed to honor Churchill-based Hall of Fame conditioner D. Wayne Lukas, was the first stakes win for the 6-year-old gelded son of Unbridled Energy at 12-1 odds. Owned by A. L. Luedtke, Geothermal was bred in Kentucky by his owner and Jo Ann Luedtke and is trained by Steve Margolis.
We reported on a previous win back in June
.
Read More.......